Departments
Exclusive - THE book on Traditional & Classic Siamese cats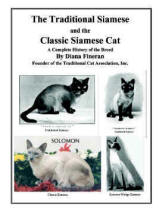 Written by the Founder of TCA, Inc.
---
---
Tullycrine
Affordable
Web Design
---
We welcome you to enjoy the cat photos and kitten photos of our previous winners in each show class. They represent some of the best Traditional Cats available. This is an important fund raiser for our organization, and we thank the sponsors and the participants for showing their support.
2002
HOUSEHOLD PET REVIEW RESULTS
JUDGES: Dr, Ken Zimmerman, DVM; Marjorie Tweed, Vet Assistant; Paula Schenebeck.
Page 1of 2 Last Page Purebred Show
| | | | | | |
| --- | --- | --- | --- | --- | --- |
| Class #/Name | Place | | Cat Name | Owner/s | State |
| | | | |
| --- | --- | --- | --- |
| | 1 | | Longhair Division - Best Kitten (2-4 months) |
| | | | | | |
| --- | --- | --- | --- | --- | --- |
| | 1 | | Hercules - Judges Comments:Good structure, defined head. | Barbara & Masen Yaffee | CA |
| | | | |
| --- | --- | --- | --- |
| | 3 | | Longhair Division - Best Cat in Premiership |
| | | | | | |
| --- | --- | --- | --- | --- | --- |
| | 1 | | Tullycrine Pepper - Judges Comments: Beautiful coat, head, and eyes. | John & Diane Fineran | WA |
| | | | |
| --- | --- | --- | --- |
| | 4 | | Longhair Division - Best Senior Cat |
| | | | | | |
| --- | --- | --- | --- | --- | --- |
| | 1 | | Tullycrine Purrkins - Judges Comments:Fluffy Coat | John & Diane Fineran | WA |
| | | | | | |
| --- | --- | --- | --- | --- | --- |
| | 2 | | Madeline - Judges Comments: Pretty markings | Karen F. Ohta | CA |
| | | | |
| --- | --- | --- | --- |
| | 10 | | Longhair Division - Best of Color (Solid & White) |
| | | | | | |
| --- | --- | --- | --- | --- | --- |
| | 1 | | Tullycrine Purrkins | John & Diane Fineran | WA |
| | | | |
| --- | --- | --- | --- |
| | 12 | | Longhair Division - Best of Color (Tabby & White) |
| | | | | | |
| --- | --- | --- | --- | --- | --- |
| | 1 | | Madeline | Karen F. Ohta | CA |
| | | | |
| --- | --- | --- | --- |
| | 15 | | Shorthair Division - Best Kitten (2-4 months) |
| | | | | | |
| --- | --- | --- | --- | --- | --- |
| | 1 | | Xoticatt's Anck-su-numan - Judges Comments: Cute | Misty D. Walkup | WV |
| | | | |
| --- | --- | --- | --- |
| | 17 | | Shorthair Division - Best Cat in Premiership |
| | | | | | |
| --- | --- | --- | --- | --- | --- |
| | 1 | | Tullycrine Ginger - Judges Comments: Good Head | John & Diane Fineran | WA |
| | | | | | |
| --- | --- | --- | --- | --- | --- |
| | 2 | | Tulllycrine Twinkle | John & Diane Fineran | WA |
| | | | |
| --- | --- | --- | --- |
| | 18 | | Shorthair Division - Best Senior Cat |
| | | | | | |
| --- | --- | --- | --- | --- | --- |
| | 1 | | Mama - Judges Comments: Dignified & Wise | Karen Ohta/Tokuko Hayakawa | CA |
| | | | |
| --- | --- | --- | --- |
| | 19 | | Shorthair Division - Best of Color (Solid) |
| | | | | | |
| --- | --- | --- | --- | --- | --- |
| | 1 | | Tullycrine Ginger | John & Diane Fineran | WA |
| | | | | | |
| --- | --- | --- | --- | --- | --- |
| | 2 | | Xoticatt's Anck-su-numan | Misty D. Walkup | WV |
| | | | |
| --- | --- | --- | --- |
| | 21 | | Shorthair Division - Best of Color (Tabby) |
| | | | | | |
| --- | --- | --- | --- | --- | --- |
| | 1 | | Tullycrine Lilly - Judges Comments: Pretty Grey | John & Diane Fineran | WA |
| | | | |
| --- | --- | --- | --- |
| | 24 | | Shorthair Division - Best of Color (Solid & White) |
| | | | | | |
| --- | --- | --- | --- | --- | --- |
| | 1 | | Joey - Judges Comments: Correct Contrast | Karen Ohta | CA |
| | | | | | |
| --- | --- | --- | --- | --- | --- |
| | 2 | | Tullycrine Twinkle | John & Diane Fineran | WA |
| | | | |
| --- | --- | --- | --- |
| | 33 | | Handicapped Shorthair - Best Cat in Premiership |
| | | | | | |
| --- | --- | --- | --- | --- | --- |
| | 1 | | Feliz - Judges Comments:Courageous | Karenn Ohta/Ingalill Bakker | CA |
| | | | |
| --- | --- | --- | --- |
| | 44 | | Fun Classes - Best Couch Potato |
| | | | | | |
| --- | --- | --- | --- | --- | --- |
| | 1 | | "Shadow Stalkers" Angemon - Judges Comments: looks like a Pro. | Susan Jackson | CA |
| | | | | | |
| --- | --- | --- | --- | --- | --- |
| | 2 | | Hercules | Barbara & Masen Yaffee | CA |
| | | | |
| --- | --- | --- | --- |
| | 48 | | Fun Classes - Best Dog Tolerator |
| | | | | | |
| --- | --- | --- | --- | --- | --- |
| | 1 | | Ryan - Judges Comments: Loves Dogs. | Karen F. Ohta | CA |
| | | | |
| --- | --- | --- | --- |
| | 51 | | Fun Classes - Most Beautiful Eyes |
| | | | | | |
| --- | --- | --- | --- | --- | --- |
| | 1 | | Hercules | Barbara & Masen Yaffee | CA |
| | | | | | |
| --- | --- | --- | --- | --- | --- |
| | 2 | | Tullycrine Ginger | John & Diane Fineran | WA |
| | | | |
| --- | --- | --- | --- |
| | 54 | | Fun Classes - Silly Poses |
| | | | | | |
| --- | --- | --- | --- | --- | --- |
| | 1 | | Hercules - Judges Comments: Happy siblings | Barbara & Masen Yaffee | CA |
| | | | | | |
| --- | --- | --- | --- | --- | --- |
| | 2 | | Hercules - Judges Comments:Great Pals | Barbara & Masen Yaffee | CA |
| | | | | | |
| --- | --- | --- | --- | --- | --- |
| | 3 | | Tullycrine Purrkins - Judges Comments:Very comfortable | John & Diane Fineran | WA |
| | | | |
| --- | --- | --- | --- |
| | 55 | | Fun Classes - Working Cat (doing a job) |
| | | | | | |
| --- | --- | --- | --- | --- | --- |
| | 1 | | Ryan - Judges Comments: Talented | Karen F. Ohta | CA |
| | | | | |
| --- | --- | --- | --- | --- |
| 2 | | Daddy & Angie - Judges Comments: Watchful | Karen F. Ohta | CA |
| | | | | | |
| --- | --- | --- | --- | --- | --- |
| | 3 | | Feliz | Karen Ohta /Ingalill Bakker | CA |