Departments
eBook now Available!
Exclusive - THE book on Traditional & Classic Siamese cats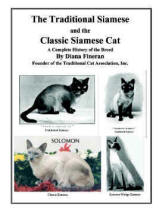 Written by the Founder of TCA, Inc.
---
---
Tullycrine
Affordable
Web Design
---
We welcome you to enjoy the cat photos and kitten photos of our previous winners in each show class. They represent some of the best Traditional Cats available. This is an important fund raiser for our organization, and we thank the sponsors and the participants for showing their support.
| | | | | | | | |
| --- | --- | --- | --- | --- | --- | --- | --- |
| Class #/Name | Place | | Cat Name | | Owner | | State |
| | | | |
| --- | --- | --- | --- |
| | 167 | | Traditional Colorpoint Shorthair - Best of Color (Cream Point) |
| | | | | | |
| --- | --- | --- | --- | --- | --- |
| | 1 | | Van Scholtens Peaches | Van Sholtens Siamese | MI |
| | | | |
| --- | --- | --- | --- |
| | 170 | | Traditional Colorpoint Shorthair - Best of Color (Seal Point) |
| | | | | | |
| --- | --- | --- | --- | --- | --- |
| | 1 | | Van Scholtens Little One | Van Scholtens Siamese | MI |
| | | | |
| --- | --- | --- | --- |
| | 174 | | Traditional Colorpoint Shorthair - Best of Color (Lynx Point) |
| | | | | | |
| --- | --- | --- | --- | --- | --- |
| | 1 | | Van Scholtens Baby Cat | Van Scholten's Siamese | MI |
| | | | | | |
| --- | --- | --- | --- | --- | --- |
| | 2 | | Cheetah of Sea Cats | Doreen Boetsch | ME |
| | | | | | |
| --- | --- | --- | --- | --- | --- |
| | 3 | | Tee-Me Lady Samantha | Teena Lo Sey | MT |
| | | | |
| --- | --- | --- | --- |
| | 175 | | Traditional Colorpoint Shorthair - Best of Color (Tortie Point) |
| | | | | | |
| --- | --- | --- | --- | --- | --- |
| | 1 | | Van Scholtens Tutu | Van Scholten's Siamese | MI |
| | | | |
| --- | --- | --- | --- |
| | 176 | | Traditional Colorpoint Shorthair - Best of Color (Torbie Point) |
| | | | | | |
| --- | --- | --- | --- | --- | --- |
| | 1 | | Van Scholtens Tortie Tiger | Van Scholten's Siamese | MI |
| | | | |
| --- | --- | --- | --- |
| | 177 | | Classic Colorpoint Shorthair - Best Kitten (2-4 months) |
| | | | | | |
| --- | --- | --- | --- | --- | --- |
| | 1 | | Van Scholtens Kitten | Van Scholten's Siamese | MI |
| | | | |
| --- | --- | --- | --- |
| | 178 | | Classic Colorpoint Shorthair - Best Kitten (5-8 months) |
| | | | | | |
| --- | --- | --- | --- | --- | --- |
| | 1 | | Van Scholtens Lynx | Van Scholte's Siamese | MI |
| | | | |
| --- | --- | --- | --- |
| | 188 | | Classic Colorpoint Shorthair - Best of Color (Lynx Point) |
| | | | | | |
| --- | --- | --- | --- | --- | --- |
| | 1 | | Van Scholtens Lil Baby | Van Scholten's Siamese | MI |
| | | | |
| --- | --- | --- | --- |
| | 490 | | Traditional Siamese - Best Kitten (2-4 months) |
| | | | | | |
| --- | --- | --- | --- | --- | --- |
| | 1 | | Old Siam Sam | Paula Schenebeck | AR |
| | | | | | |
| --- | --- | --- | --- | --- | --- |
| | 2 | | Harley | Barbara & Masen Yaffee | CA |
| | | | | | |
| --- | --- | --- | --- | --- | --- |
| | 3 | | Van Scholtens Kit | Van Scholten's Siamese | MI |
| | | | | | |
| --- | --- | --- | --- | --- | --- |
| | 4 | | Charlie | Evelyn E. Boduch | WI |
| | | | | | |
| --- | --- | --- | --- | --- | --- |
| | 5 | | Shadow Stalkers Star Crystal II | Susan Jackson | CA |
| | | | | | |
| --- | --- | --- | --- | --- | --- |
| | 5 | | Cann-Dee-Apples Kitten out of Dixie | Mary Jo Cannarella | NH |
| | | | |
| --- | --- | --- | --- |
| | 491 | | Traditional Siamese - Best Kitten (5-8 months) |
| | | | | | |
| --- | --- | --- | --- | --- | --- |
| | 1 | | Van Scholten Miss Pittypat of Tarrah | C. Eloise Smith | OH |
| | | | | | |
| --- | --- | --- | --- | --- | --- |
| | 2 | | Old Siam Sir Lancelot | Paula Schenebeck | AR |
| | | | | | |
| --- | --- | --- | --- | --- | --- |
| | 3 | | Shadow Stalkers Star Crystal II | Shirley Shuman | CA |
| | | | | | |
| --- | --- | --- | --- | --- | --- |
| | 3 | | Van Scholtens Snowball | Van Scholten's Siamese | MI |
| | | | |
| --- | --- | --- | --- |
| | 492 | | Traditional Siamese - Best Cat (over 8 months) - Judges Comments: Tough Class! |
| | | | | | |
| --- | --- | --- | --- | --- | --- |
| | 1 | | Van Scholtens Simon Peter | Van Scholten's Siamese | MI |
| | | | | | |
| --- | --- | --- | --- | --- | --- |
| | 1 | | Permes Anabella of Old Siam | Paula Schenebeck | AR |
| | | | | | |
| --- | --- | --- | --- | --- | --- |
| | 2 | | Shadow Stalkers Pocket Baby | Shirley Shuman | CA |
| | | | | | |
| --- | --- | --- | --- | --- | --- |
| | 2 | | King Tut of Cann-Dee Apples | Mary Jo Cannarella | NH |
| | | | | | |
| --- | --- | --- | --- | --- | --- |
| | 3 | | Shadow Stalkers Crissy | Shirley Shuman | CA |
| | | | | | |
| --- | --- | --- | --- | --- | --- |
| | 3 | | Empress Sumalee of old Siam | Paula Schenebeck | AR |
| | | | | | |
| --- | --- | --- | --- | --- | --- |
| | 4 | | Shadow Stalkers Lic Lic | Shirley Shuman | CA |
| | | | | | |
| --- | --- | --- | --- | --- | --- |
| | 5 | | Tarrahs Rhett Butler | C. Eloise Smith | OH |
| | | | | | |
| --- | --- | --- | --- | --- | --- |
| | 5 | | Shadow Stalkers Charlie | Shirley Shuman | CA |
| | | | |
| --- | --- | --- | --- |
| | 494 | | Traditional Siamese - Best Senior Cat (over 10 years of age) |
| | | | | | |
| --- | --- | --- | --- | --- | --- |
| | 1 | | Van Scholtens Mittens | Van Scholten's Siamese | MI |
| | | | |
| --- | --- | --- | --- |
| | 495 | | Traditional Siamese - Best of Color (Seal Point) |
| | | | | | |
| --- | --- | --- | --- | --- | --- |
| | 1 | | Tarrahs Rhett Butler | C. Eloise Smith | OH |
| | | | | | |
| --- | --- | --- | --- | --- | --- |
| | 2 | | Permes Anabella of Old Siam | Paula Schenebeck | AR |
| | | | | | |
| --- | --- | --- | --- | --- | --- |
| | 2 | | Van Scholtens Simon Peter | Van Scholtens Siamese | MI |
| | | | | |
| --- | --- | --- | --- | --- |
| 3 | | Old Siam Sam | Paula Schenebeck | AR |
| | | | | | |
| --- | --- | --- | --- | --- | --- |
| | 3 | | King Tut of Cann-Dee Apples | Mary Jo Cannarella | NH |
| | | | | | |
| --- | --- | --- | --- | --- | --- |
| | 4 | | Van Scholten Katie Scarlett of Tarrah | C. Eloise Smith | OH |
| | | | | | |
| --- | --- | --- | --- | --- | --- |
| | 5 | | Harley | Barbara & Masen Yaffee | CA |