Departments
eBook now Available!
Exclusive - THE book on Traditional & Classic Siamese cats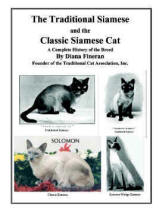 Written by the Founder of TCA, Inc.
---
---
Tullycrine
Affordable
Web Design
---
2004 HHP Show Results
Judges: Dr. Angel E. DeVito, DVM.
Bonnie Enea, Vet Assistant
Peggy Muller, Enthusiast

Show Secretary: Fran Whittin, CLU

We offer our congratulations to the winners and thanks to the show Judges, show supporters, show Secretary, and for those who took the time to enter the show.
| | | | |
| --- | --- | --- | --- |
| | Class #/Placing | Division | Class Name |
| | | | |
| --- | --- | --- | --- |
| | 1 | Longhair | Best Kitten (2-4 months) |
| | | | | | | |
| --- | --- | --- | --- | --- | --- | --- |
| | 1 | | 86 | | Noah & Leah | Eric & Karin Wishan |
| | | | |
| --- | --- | --- | --- |
| | 3 | Longhair | Best Cat in Premiership |
| | | | | | | |
| --- | --- | --- | --- | --- | --- | --- |
| | 1 | | 92 | | Charisma | Carmen, Kayla & Kendra Krueger |
| | | | | | | |
| --- | --- | --- | --- | --- | --- | --- |
| | 2 | | 95 | | Tatia | Stacy Wainwright & Chris Stechman |
| | | | |
| --- | --- | --- | --- |
| | 4 | Longhair | Best Senior Cat |
| | | | | | | |
| --- | --- | --- | --- | --- | --- | --- |
| | 1 | | 80 | | Red Ranger | David Roggenkamp |
| | | | |
| --- | --- | --- | --- |
| | 9 | Longhair | Best of Color (Pointed) |
| | | | | | | |
| --- | --- | --- | --- | --- | --- | --- |
| | 1 | | 92 | | Charisma | Carmen, Kayla & Kendra Krueger |
| | | | |
| --- | --- | --- | --- |
| | 10 | Longhair | Best of Color (Solid & White) |
| | | | | | | |
| --- | --- | --- | --- | --- | --- | --- |
| | 1 | | 80 | | Red Ranger | David Roggenkamp |
| | | | |
| --- | --- | --- | --- |
| | 11 | Longhair | Best of Color (Shaded & White) |
| | | | | | | |
| --- | --- | --- | --- | --- | --- | --- |
| | 1 | | 79 | | Musical Mittens for the | Eric Roggenkamp |
| | | | |
| --- | --- | --- | --- |
| | 13 | Longhair | Best of Color Multi-Color & White) |
| | | | | | | |
| --- | --- | --- | --- | --- | --- | --- |
| | 1 | | 61 | | Sara Lee | Sharon Kitashima |
| | | | |
| --- | --- | --- | --- |
| | 16 | Shorthair | Best Kitten (5-8 months) |
| | | | | | | |
| --- | --- | --- | --- | --- | --- | --- |
| | 1 | | 97 | | Nekko San | Susan Kosche Vallem |
| | | | |
| --- | --- | --- | --- |
| | 17 | Shorthair | Best Cat in Premiership |
| | | | | | | |
| --- | --- | --- | --- | --- | --- | --- |
| | 1 | | 82 | | Trinket's Candy Kisses | Trina Roggenkamp |
| | | | |
| --- | --- | --- | --- |
| | 18 | Shorthair | Best Senior Cat |
| | | | | | | |
| --- | --- | --- | --- | --- | --- | --- |
| | 1 | | 96 | | Bando | Susan Kosche Vallem |
| | | | | | | |
| --- | --- | --- | --- | --- | --- | --- |
| | 2 | | 81 | | Kimericks Sugar Cube | Kimberly L. Morse |
| | | | |
| --- | --- | --- | --- |
| | 19 | Shorthair | Best of Color (Solid) |
| | | | | | | |
| --- | --- | --- | --- | --- | --- | --- |
| | 1 | | 56 | | Rascal | Sharon Kitashima |
| | | | | | | |
| --- | --- | --- | --- | --- | --- | --- |
| | 2 | | 81 | | Kimericks Sugar Cube | Kimberly L. Morse |
| | | | |
| --- | --- | --- | --- |
| | 23 | Shorthair | Best of Color (Pointed) |
| | | | | | | |
| --- | --- | --- | --- | --- | --- | --- |
| | 1 | | 96 | | Bando | Susan Kosche Vallem |
| | | | | | | |
| --- | --- | --- | --- | --- | --- | --- |
| | 2 | | 97 | | Nekko San | Susan Kosche Vallem |
| | | | |
| --- | --- | --- | --- |
| | 26 | Shorthair | Best of Color (Tabby & White) |
| | | | | | | |
| --- | --- | --- | --- | --- | --- | --- |
| | 1 | | 57 | | Emma | Sharon Kitashima |
| | | | | | | |
| --- | --- | --- | --- | --- | --- | --- |
| | 2 | | 58 | | Annie Mae | Sharon Kitashima |
| | | | |
| --- | --- | --- | --- |
| | 27 | Shorthair | Best of Color (Multi-Color & White) |
| | | | | | | |
| --- | --- | --- | --- | --- | --- | --- |
| | 1 | | 59 | | Tika | Sharon Kitashima |
| | | | | | | |
| --- | --- | --- | --- | --- | --- | --- |
| | 2 | | 60 | | Sage | Sharon Kitashima |
| | | | | | | |
| --- | --- | --- | --- | --- | --- | --- |
| | 3 | | 82 | | Trinker's Candy Kisses | Trina Roggenkamp |
| | | | |
| --- | --- | --- | --- |
| | 30 | Handicap | Best Cat in Premiership |
| | | | | | | |
| --- | --- | --- | --- | --- | --- | --- |
| | 1 | | 95 | | Tatia | Stacy Wainwright & Chris Stechman |
| | | | |
| --- | --- | --- | --- |
| | 42 | Youth: Essay | What responsible cat ownership means |
| | | | | | | |
| --- | --- | --- | --- | --- | --- | --- |
| | 1 | | 92 | | Carmen,Kayla & Kendra | Carmen, Kayla & Kendra Krueger |
| | | | | | | |
| --- | --- | --- | --- | --- | --- | --- |
| | 1 | | 86 | | Noah & Leah | Eric & Karin Wishan |
| | | | | | | |
| --- | --- | --- | --- | --- | --- | --- |
| | 2 | | 95 | | Tatia | Stacy Wainwright & Chris Stechman |
| | | | | | | |
| --- | --- | --- | --- | --- | --- | --- |
| | 3 | | 56 | | Rascal | Sharon Kitashima |
| | | | | | | |
| --- | --- | --- | --- | --- | --- | --- |
| | 4 | | 96 | | Bando | Susan Kosche Vallem |
| | | | |
| --- | --- | --- | --- |
| | 45 | Fun | Strangest Place Sleeping |
| | | | | | | |
| --- | --- | --- | --- | --- | --- | --- |
| | 1 | | 81 | | Kimericks Sugar Cube | Kimberly L. Morse |
| | | | | | | |
| --- | --- | --- | --- | --- | --- | --- |
| | 2 | | 60 | | Sage | Sharon Kitashima |
| | | | | | |
| --- | --- | --- | --- | --- | --- |
| | 1 | | 97 | Nekko San | Susan Kosche Vallem |
| | | | |
| --- | --- | --- | --- |
| | 48 | Fun | Best Dog Tolerator |
| | | | | | |
| --- | --- | --- | --- | --- | --- |
| | 1 | | 81 | Kimericks Sugar Cube | Kimberly L. Morse |
| | | | | | |
| --- | --- | --- | --- | --- | --- |
| | 2 | | 80 | Red Ranger | David Roggenkamp |
| | | | | | |
| --- | --- | --- | --- | --- | --- |
| | 3 | | 82 | Trinkets Candy Kisses | Trina Roggenkamp |
| | | | |
| --- | --- | --- | --- |
| | 51 | Fun | Most Beautiful Eyes |
| | | | | | |
| --- | --- | --- | --- | --- | --- |
| | 1 | | 57 | Emma | Sharon Kitashima |
| | | | | | |
| --- | --- | --- | --- | --- | --- |
| | 1 | | 92 | Charisma | Carmen, Kayla & Kendra Krueger |
| | | | | | |
| --- | --- | --- | --- | --- | --- |
| | 2 | | 61 | Sara Lee | Sharon Kitashima |
| | | | | | |
| --- | --- | --- | --- | --- | --- |
| | 3 | | 60 | Sage | Sharon Kitashima |
| | | | | | |
| --- | --- | --- | --- | --- | --- |
| | 4 | | 95 | Tatia | Stacy Wainwright & Chris Stechman |
| | | | | | |
| --- | --- | --- | --- | --- | --- |
| | 5 | | 40 | Mukker of Angora Rama | Harvey Harrision |
| | | | |
| --- | --- | --- | --- |
| | 52 | Fun | Best Alpine Climber |
| | | | | | |
| --- | --- | --- | --- | --- | --- |
| | 1 | | 62 | Breeze | Sharon Kitashima |
| | | | | | |
| --- | --- | --- | --- | --- | --- |
| | 1 | | 95 | Tatia | Stacy Wainwright & Chris Stechman |
| | | | | | |
| --- | --- | --- | --- | --- | --- |
| | 2 | | 56 | Rascal | Sharon Kitashima |
| | | | |
| --- | --- | --- | --- |
| | 56 | Fun | Caption Class (appropriate to the photo) |
| | | | | | |
| --- | --- | --- | --- | --- | --- |
| | 1 | | 59.2 | Tika | Sharon Kitashima |
| | |
| --- | --- |
| | "You expect that to grow?" |
| | | | | | |
| --- | --- | --- | --- | --- | --- |
| | 1 | | 59.1 | Tika | Sharon Kitashima |
| | | | | | |
| --- | --- | --- | --- | --- | --- |
| | 2 | | 56.1 | Rascal | Sharon Kitashima |
| | | | | | |
| --- | --- | --- | --- | --- | --- |
| | 3 | | 58 | Annie Mae | Sharon Kitashima |
| | |
| --- | --- |
| | "I'm just guarding the dog's toys." |
| | | | | | |
| --- | --- | --- | --- | --- | --- |
| | 3 | | 57 | Emma | Sharon Kitashima |
| | | | | | |
| --- | --- | --- | --- | --- | --- |
| | 4 | | 56.2 | Rascal | Sharon Kitashima |
| | | | | | |
| --- | --- | --- | --- | --- | --- |
| | 4 | | 95 | Tatia | Stacy Wainwright & Chris Stechman |
| | | | | | |
| --- | --- | --- | --- | --- | --- |
| | 5 | | 56.3 | Rascal | Sharon Kitashima |
| | |
| --- | --- |
| | "What were you working on?" |
| | | | | | |
| --- | --- | --- | --- | --- | --- |
| | 5 | | 41 | L. Ariana, C. Freddy, R. Timmy | Harvey Harrision |
| | |
| --- | --- |
| | "Our sister takes vitamin pills." |
| | | | |
| --- | --- | --- | --- |
| | 57 | Fun | Best Computer User |
| | | | | | |
| --- | --- | --- | --- | --- | --- |
| | 1 | | 86 | Noah & Leah | Eric & Karin Wishan |
| | | | |
| --- | --- | --- | --- |
| | 58 | Fun | Strangest Place/Thing to Be inside |
| | | | | | |
| --- | --- | --- | --- | --- | --- |
| | 1 | | 95 | Tatia | Stacy Wainwright & Chris Stechman |
| | | | | | |
| --- | --- | --- | --- | --- | --- |
| | 2 | | 81 | Kimericks Sugar Cube | Kimberly L. Morse |
| | | | |
| --- | --- | --- | --- |
| | 60 | Fun | Coloring Cat Picture – 7 to 12 years old |
| | | | | | |
| --- | --- | --- | --- | --- | --- |
| | 1 | | 92 | Carmen, Kayla & Kendra | Carmen, Kayla & Kendra Krueger |
| | | | |
| --- | --- | --- | --- |
| | 101 | Championship | Best Kitten in Show |
| | | | | | |
| --- | --- | --- | --- | --- | --- |
| | 1 | | 86 | Noah & Leah | Eric & Karin Wishan |
| | | | |
| --- | --- | --- | --- |
| | 102 | Championship | 2nd Best Kitten in Show |
| | | | | | |
| --- | --- | --- | --- | --- | --- |
| | 2 | | 97 | Nekko San | Susan Kosche Vallem |
| | | | |
| --- | --- | --- | --- |
| | 104 | Championship | Best in Show |
| | | | | | |
| --- | --- | --- | --- | --- | --- |
| | 1 | | 92 | Charisma | Carmen, Kayla & Kendra Krueger |
| | | | |
| --- | --- | --- | --- |
| | 105 | Championship | 2nd Best in Show |
| | | | | | |
| --- | --- | --- | --- | --- | --- |
| | 2 | | 95 | Tatia | Stacy Wainwright & Chris Stechman |
| | | | |
| --- | --- | --- | --- |
| | 106 | Championship | 3rd Best in Show |
| | | | | | |
| --- | --- | --- | --- | --- | --- |
| | 3 | | 82 | Trinket's Candy Kisses | Trina Roggenkamp |