Departments
eBook now Available!
Exclusive - THE book on Traditional & Classic Siamese cats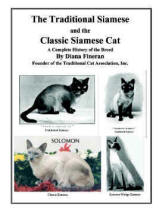 Written by the Founder of TCA, Inc.
---
---
Tullycrine
Affordable
Web Design
---
---
PAST SHOW RESULTS

Welcome! You are at the entrance to the Traditional Cat Association, Inc.
Show Results Summary for both Purebred Cats and Purebred Kittens,
as well as Household Pet Cats and Household Pet Kittens.
Member's Comments: Thank you for everything ... I can't wait to get my package from the cat show, I am very excited and surprises make me very anxious, I can't wait, I have been telling everyone about the result and I almost can't wait for next year to be able to do it again.
A Letter from the Cats - Some really classy cats tell us of their winning experience!